Photographs of Bulb Planting project 2015 at Hetton Lyons Country Park
The project was to plant bulbs of local plants (from a list supplied by SCC), funded by a grant from the North East Horticultural Society, ( who organise the Harrogate Flower Show), who's aim was to 'improve our landscapes'.
The Director of NEHS, Nick Smith, visited the project to see how FOHLCP , supported by Hetton Local and Natural History Society, were working on the project, with the wooded area being prepared the day before, by Springboard Adventure's Rob Johnston and his team of Adult Learners.
Our Society contacted and involved gardening Clubs from 3 local Primary Schools; Eppleton Academy Primary, Hetton Lyons Primary and Hetton Primary Schools. Nick Smith, Director, was amazed at the response from local schools, who worked like skilled gardeners and had most of the bulbs planted within an hour, to create a Bluebell and Snowdrop Wood...well done our schools!!
Hetton Town Mayor , Juliana Heron, was joined by Town Councillors Blackburn, ( who is also a Portfolio Councillor for Sunderland City Council), Heron, Mrs Doris Turner and Town Clerk, John Price. Hetton Town Council provided the children with drinks and sweets after all their hard work and SCC sent 'love where you live' certificates for each school.
The afternoon saw a number of residents and Hetton Town Councillor, Mrs Doris Turner, getting involved to plant more bulbs further through into the wood, to create a slightly different planting by adding Wood Anemone's, Lesser Celandine, and daffodils, among others.
FOHLCP will continue with the project in the Springtime by planting plug plants purchased through the grant from NEHS, again with support from our Society, schools and residents.
A true Community venture!
Walks
QR Codes for Boundary Heritage Walk around Hetton and Rainton - PDF of Walk Instructions
Link to Boundary Heritage Walk Hetton and Rainton (Web links)
Link to Boundary Heritage Walk Part 2 Hetton, Elemore and Moorsley (Web links)
QR Codes for Boundary Heritage Walk Part 2 Hetton, Elemore and Moorsley (PDF)
Hetton Le Hole Town Heritage Walk
Hetton Green Watch - Friday 28th June survey
Meet at the main building Hetton Lyons Country Park
1pm – 5pm (Note changed time please)
Hetton Lyons Country Park
Come along to another of our Wildlife Identification and
Surveying days. This time we're meeting at Hetton Lyons
Country Park at 1pm and following the rights of way towards Great Eppleton.
If you've got binoculars and identification guides then
please feel free to bring them.
Monday 3rd June at 6pm
A Heritage Walk around the East Rainton Area to be conducted by Peter Witham.
Distance 1.5 miles
Approx 90 minutes
Gather at Hetton and Eppleton Community Hall
Monday 24th June at 6pm
A Heritage Walk around the Moorsley Area to be conducted by Peter Witham.
Distance 1.5 miles
Approx 90 minutes
Gather at Hetton and Eppleton Community Hall
---
Wildwatch Training for the Village Atlas .pdf
David Inch Talk on The Biddick Duke of Perth at the Hetton and Eppleton Community Hall on Monday 25th March 7pm Poster.pdf
An event to celebrate and increase awareness of Hetton's natural environment and the wildlife it contains.
Friday 17th May 2013, the Hetton Centre, 10am to 3pm
---
There are three book projects we hope to complete within the next 12 months leading to publication in early 2013. The book topics are as follows :-
1. The publication of a book about Moorsley by Robert Hope, written in the 1980s but relating to his early life in the village during the late 1920s. Similar to the book he wrote about East Rainton, Robert describes life in the village and gives a comprehensive account of the families who lived in the village during the 1920s. The book is complemented by the use of visual maps and drawings drawn by Robert in his own inimitable style. Additionally there will also be inclusions of old maps of the village and details about its history as well as a written account of life as a young person by another past member of a High Moorsley family. The village has now of course all but disappeared. This account of this person's life has been recorded as part of the Group's oral history collection and then transcribed into text format.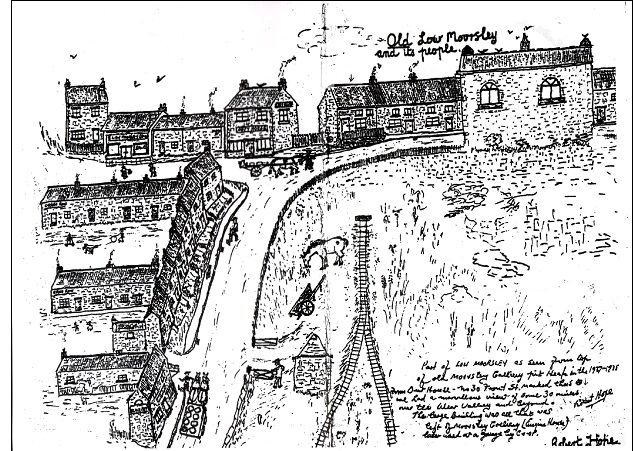 2. This book gives an indication of copies of three years of group newsletters which have in the main been expanded to include further pieces of information and additional illustrations. Most of the articles relate to Hetton in some way but also extend Hetton's influences over the years into the wider environment around the town.
3. The third book, as yet without title, will look at the people and places not only within the parishes of Hetton and Easington Lane but include the wider elements of local history in County Durham including places like Finchale Abbey, Causey Arch and Durham Jail.
Should you wish to have a contribution included, then please contact Hetton Local History Group via our email.
We are also intending, following discussions with local schools, to look very closely at producing and compiling learning resource packs which will support a creative curriculum in primary schools and which contain a significant number of local history topics suitable for the curriculum. It is hoped to emphasize the importance of Hetton in the development of rail transport and the growth of the town and changes and influences which have taken place over the years, with all its social history. Influences which have been brought about by the growth of coal mining and its subsequent loss to the town.
---
Currently the History Group is carrying out an oral history project by interviewing people who have lived in Hetton, Easington Lane, Moorsley and East Rainton. Where possible this oral record is converted to text format and entered below.
---
Home Entertainment Before and After the War by Martin Lewins
---
Living in Hetton Square Part 2 by Martin Lewins
---
Living in Hetton Square Part 3 by Martin Lewins
---
Living in Hetton Square Part 4 by Martin Lewins
---
Living in Hetton Square Part 5 by Martin Lewins
---
Living in Hetton Square Part 1 by Martin Lewins
Photograph of a young Martin Lewins
Two photos of the shops in Hetton with detail of what they were like in 1931
---
Eppleton Parish and All Saints Church to 1917
---
History of Eppleton All Saints Church 1923 to 1962
---